Welding over Picklex® 20 coating, compared to AWS or ASME Code Welding
Picklex® 20 provides much better welding than AWS/ASME code welding.
Welding without removing Mill scale.  Eliminates Hydrogen embrittlement (chances of Weld failure is almost Zero).               Zero Weld failure since 1998.    Acts as an Anti- Spatter.
Welding can be performed over Picklex® 20 coated metal surface after complete drying.
Performance/Benefits of welding through Picklex® 20 coating on Cold rolled steel/Stainless steel:
Picklex® 20 completely prepares the metal surface by removing mill oil/cutting fluid, flash rust and put a nano weldable conversion coating in One Step.
Increases weld strength considerably on Cold rolled and Stainless steel.
Does not cause hydrogen embrittlement and so the chance of weld failure is Zero, which means No Re-work, saving a lot of labor, time & cost. There has been zero welding failure since 1998
Acts as an Anti-spatter saving labor, time & cost
After Welding and removal of the weld scale, spraying Picklex® 20 on the welding area provides a very long-term indoor rust protection
Provides good adhesion of the welding area with the top coating
Performance/Benefits of welding through Picklex® 20 coating on Hot rolled steel with Mill Scale:
Picklex® 20 completely converts the mill scale to a conversion coating through which welding can be performed after complete drying (dried by Heat Gun). This eliminates removal of the mill scale before Welding.
Weld strength is still higher compared to the AWS or ASME code welding method (which is performed after removing mill scale).
Does not cause hydrogen embrittlement. The chances of weld failure is zero
Acts as an Anti-spatter
After welding and removal of the weld scale, spraying Picklex® 20 on the welding area provides a very long-term indoor rust protection before top coating
Provides good adhesion with the top coating
Saves a lot of labor, time & cost from removal of mill scale and weld spatters
Complete Surface preparation/Pre-treatment of Flash rusted steel
Comparison of the Traditional process and Picklex® 20 Process for Welding
Picklex® 20 Process: No Blasting/Sanding/Grinding needed
Sanding/Grinding to remove Rust/Mill scale
Clean the surface
Weld
Picklex® 20 spray/Brush
Wipe off the excess product
Heat Dry with Heat Gun or welding torch
Weld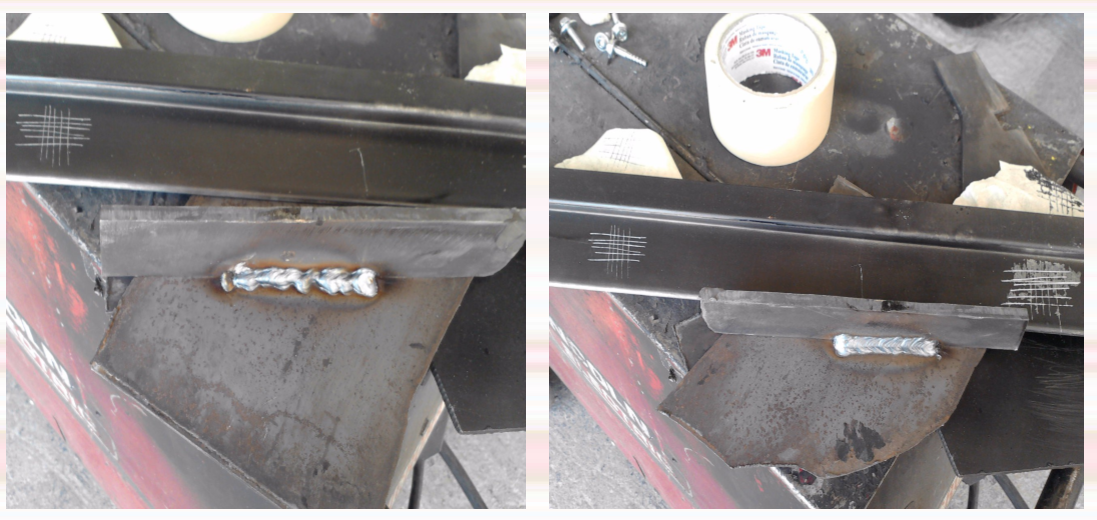 LEFT – WELDING WITHOUT PICKLEX® 20 COATING WELD SPATTER
 RIGHT – WELDING OVER PICKLEX® 20 COATING NO WELD SPATTER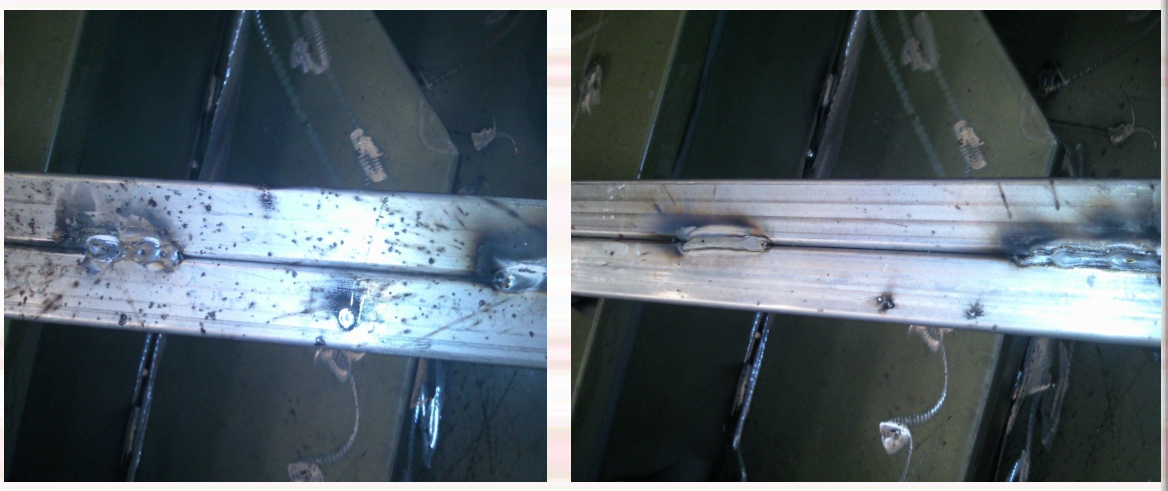 LEFT – WELDING WITHOUT PICKLEX® 20 COATING WELD SPATTER
RIGHT – WELDING OVER PICKLEX® 20 COATING NO WELD SPATTER

LEFT – WELDING WITHOUT PICKLEX® 20 COATING WELD SPATTER
RIGHT – WELDING OVER PICKLEX® 20 COATING NO WELD SPATTER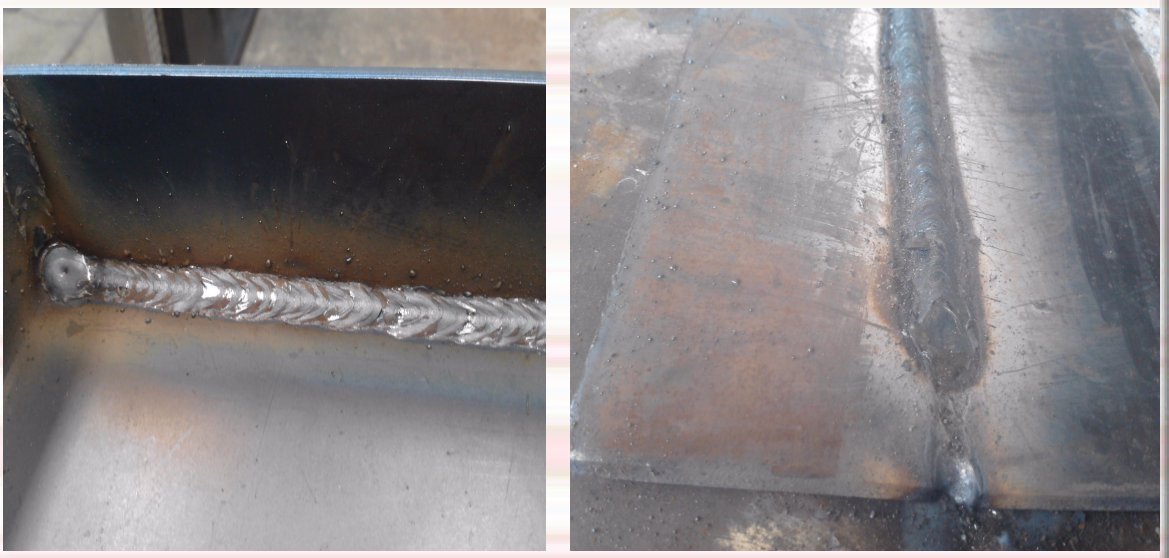 LEFT – WELDING WITHOUT PICKLEX® 20 COATING WELD SPATTER
RIGHT – WELDING OVER PICKLEX® 20 COATING NO WELD SPATTER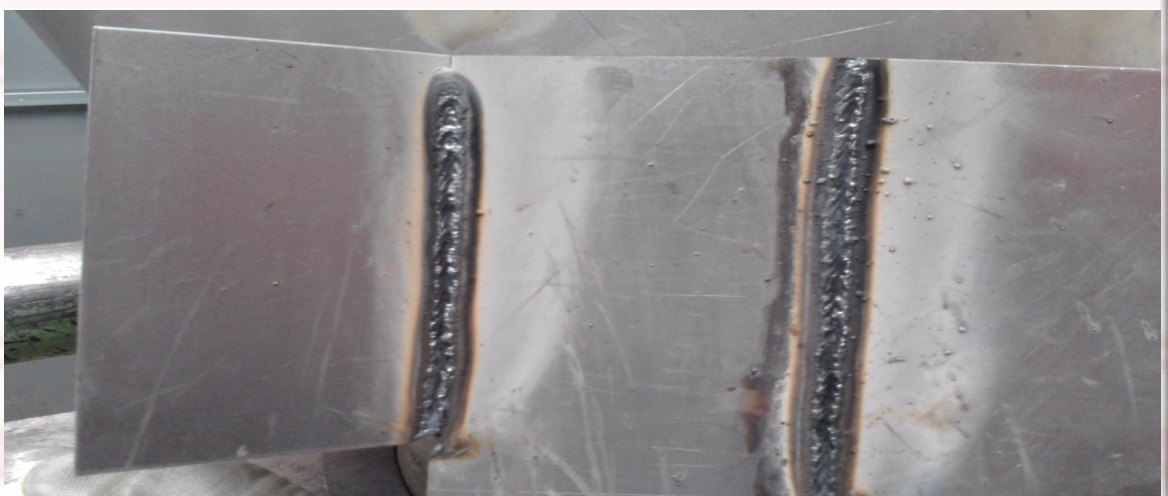 LEFT-WELDING OVER PICKLEX® 20 COATING NO WELD SPATTER
RIGHT- WELDING WITHOUT PICKLEX® 20 COATING WELD SPATTER